SUFFERING FROM DEGENERATIVE DISC DISEASE?
Champey Pain Group may be able to help.
Degenerative disc disease is a term used to describe the normal changes in your spinal discs as you age. Spinal discs are soft, compressible discs that separate the interlocking bones (vertebrae) that make up the spine. As you age, these discs degenerate and can lose cushioning and begin to fragment.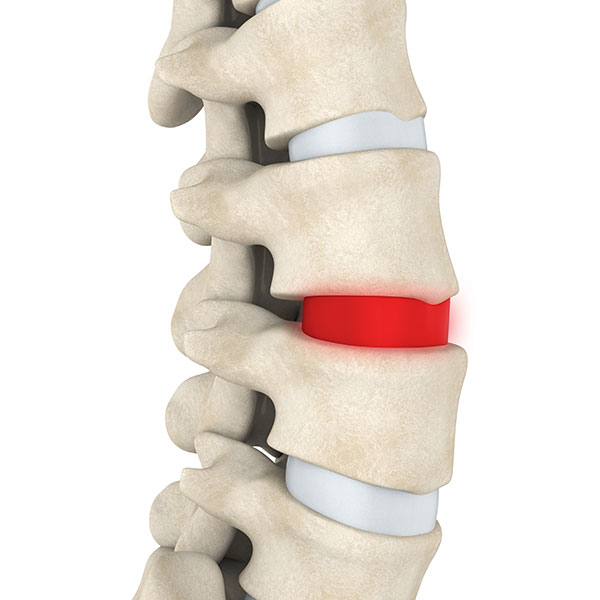 WHAT IS DEGENERATIVE DISC DISEASE?
As you age, your spinal discs break down, or degenerate, which may result in degenerative disc disease. In many cases, degenerative disc disease occurs in people who smoke cigarettes and those who do heavy physical work and heavy lifting. If you are obese, too, you are more likely to have symptoms of degenerative disc disease. It is also common for other spinal conditions, like a herniated disc or a disc tear, to begin the degeneration process. As the discs degenerate, the space between your vertebrae gets smaller, allowing for less padding between them, and causing the spine to become less stable.
Wondering if you might be suffering from degenerative disc disease? Try our 30 second Pain Assessment Tool to find out. One of our Patient Advocates will be in touch within one business day to discuss your pain.
WHO CAN GET DEGENERATIVE DISC DISEASE?
Although this condition can cause lower back pain symptoms over a long period of time, the pain is usually manageable with various conservative treatment options. However, for some patients, surgery may become the best option when other treatments have failed and the pain has become too great and is affecting overall quality of life and daily activities.
If you suspect you have degenerative disc disease, take our short Treatment Assessment Tool to tell us a little about what, if anything, you've tried to treat your pain. One of our Patient Advocates will be in touch within one business day to discuss possible treatment options.
LET'S EVALUATE YOUR PAIN
Experiencing back or neck pain? Use our pain assessment tool to determine possible treatments for chronic or worsening symptoms.