ELECTROMYOGRAPHY & NERVE CONDUCTION STUDIES
Our NJ pain management doctors may suggest an  electromyography (EMG) and nerve conduction studies (NCS) - diagnostic tests that are used to assess the electrical activity of muscles and measure how well the nerves can send electrical signals. These procedures are used to help diagnosis the presence, location, and extent of diseases that cause nerve and muscle damage.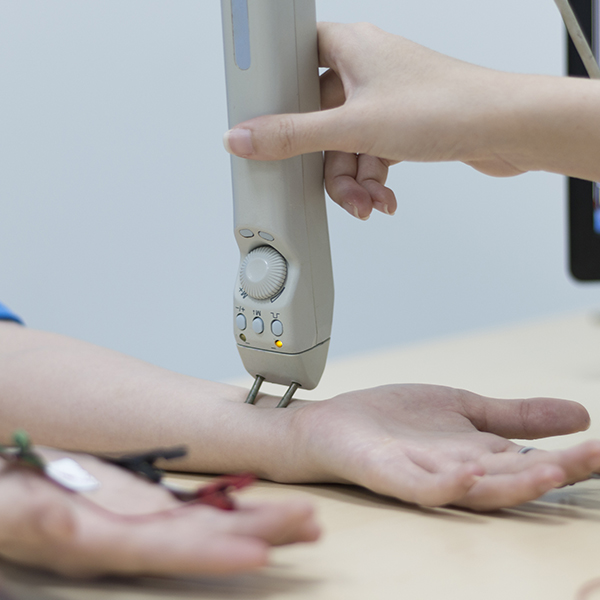 WHAT ARE ELECTROMYOGRAPHY & NERVE CONDUCTION STUDIES?
During an electromyography procedure, a needle electrode, which is attached by wires to a recording machine, is inserted into a muscle. Once the electrodes are in place, the electrical activity in that muscle is recorded while the muscle is at rest. The patient is then asked to contract the muscle slowly and steadily and the electrical activity is recorded while the muscle moving. The electrode may be moved a number of times in or to record the activity in different parts of the muscle or in different muscle. The procedure lasts between 30 to 60 minutes. During a nerve conduction study, which is performed prior to an EMG if both are being performed, several flat metal-disc electrodes are attached to the patient's skin using tape or a paste. An electrode that puts out electric pulses is placed right over the nerve and a separate recording electrode is placed over the muscles controlled by that nerve. Once the electrodes are in place, several quick electrical pulses are given to the nerve and time it takes for the muscle to contract in response is recorded. The speed of the response is called the conduction velocity. An NCS will typically last between 15 minutes to an hour.
Wondering if an electromyography can address your painful condition? Take our 30 second online Pain Assessment Tool to find out. One of our qualified team members will be in touch within one business day to discuss your pain.
WHO CAN GET AN ELECTROMYOGRAPHY & NERVE CONDUCTION STUDY?
Electromyography and nerve conduction studies are used to differentiate nerve disorders from muscle disorders. For example, NCS detects a problem with the nerve, whereas, an EMG detects whether the muscle is functioning properly in response to the nerve's stimulus. These tests are typically recommended in order to evaluate diseases and conditions such as Guillain-Barré syndrome, carpal tunnel, herniated disc, sciatica, pinched nerves and more.
If you suspect an electromyography might be a solution for you, take our short Treatment Assessment Tool to tell us a little about what, if anything, you've tried to treat your pain. One of our qualified team members will be in touch within one business day to discuss possible treatment options.
WHiCH TREATMENT IS RIGHT FOR ME?
Experiencing back or neck pain? Use our treatment check tool to determine possible treatments for chronic or worsening symptoms.